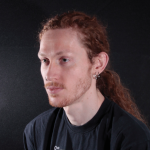 Dave Heathfield is responsible for some great miniatures including the Dark Eldar Medusae and Bragg the Gutsman.  He has been involved in a few painting guides and recently WD Weekly adding to the paint guides and showcases.
Some of Dave's tips are:
:
Set your work space.
 Painting takes concentration so a well prepared work space and a decent lamp will go a long way to helping you concentrate.
:
Keep it Neat.
 Before moving on to the advanced techniques, practice getting the basics neat and tidy.  Focus on covering the area you are painting in several thin layers.  Mistakes can then be easily corrected.  With some neat highlighting you will produce some great looking miniatures.  From here you have a great baseline for practicing some advanced techniques like blending or Object source lighting.
Dave has also given some great tips for Eavy Metal standard painting on the tale of Painters web site.  You can see it here:  http://taleofpainters.blogspot.co.uk/2013/07/report-enter-citadel-july-12-part-3_30.html
He gives some great advise on using Lhamian Medium.